This store requires javascript to be enabled for some features to work correctly.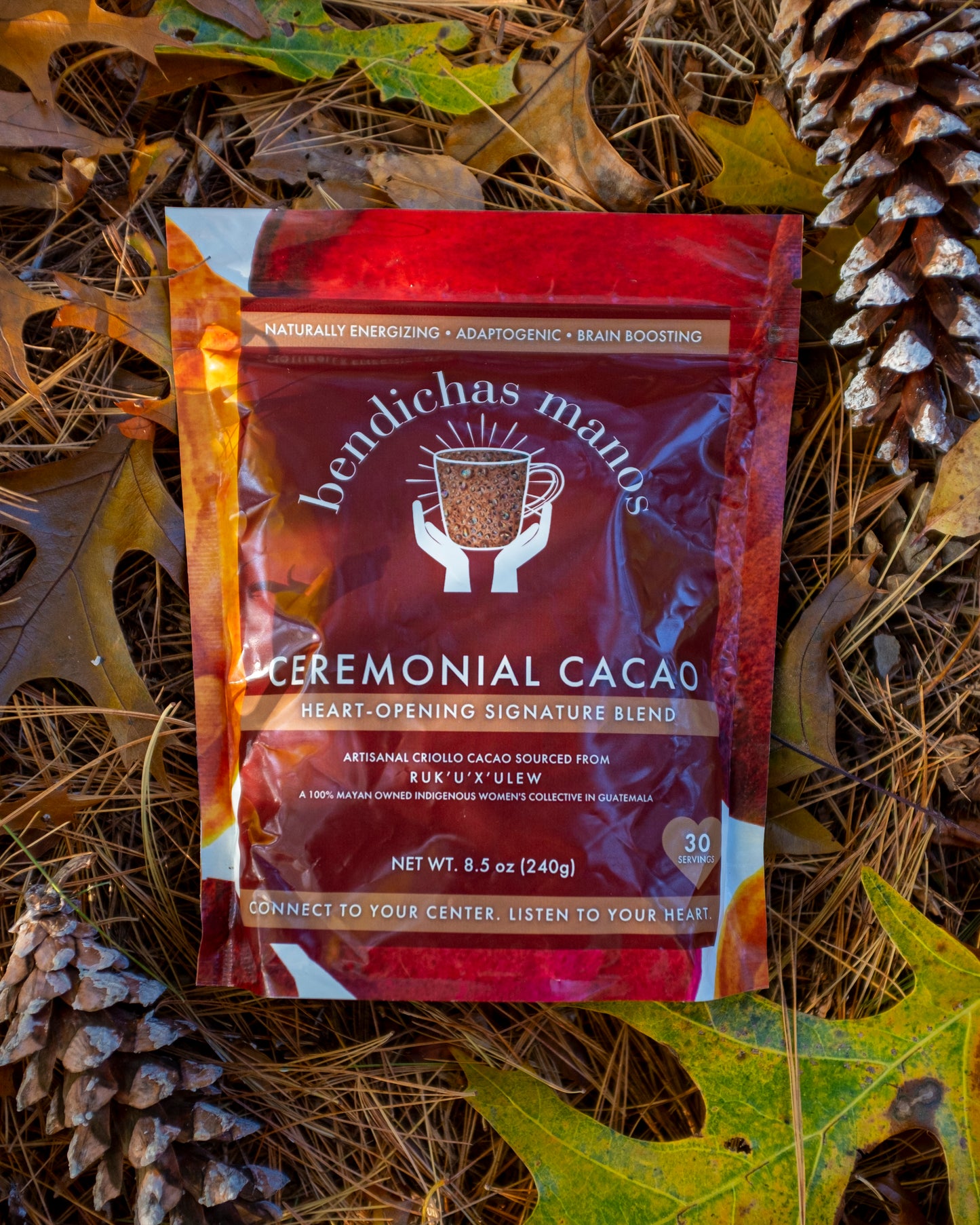 "Alchemical magic"
"This blend is absolute magic. It carries cacao's energy in synergistic partnership with the other herbs and the prayers it is infused with. In all of my many years of working with plants, this blend holds a synergy that I know is rare to find. It's pure alchemy created in deep relationships to the plants involved with mama cacao as the central star. After buying one bag, I came right back for the bulk package and will surely be back again. And Jessie who makes this blend is a beautiful human who puts her heart in this work, so it's an honor to support the mission she has of carrying cacao into the hands of those that need her medicine."
Frequently asked questions
Ceremonial cacao is a way to refer to the tropical fruit of cacao that is high quality, cultivated with integrity, and handled with reverence, intention, and love throughout the entire process of preparation and drinking. Ceremonial also implies that the power and spirit of the plant is still intact because it has been made in a ceremonial way- as opposed to more mass produced cacao that will be processed and stripped of its nutrients, thus damaging the powerful spirit of the plant. Cacao is one of the most nutrient dense live foods on the planet and with care in the making of it, intention, gratitude and/or invocation & blessing while drinking it, a Sacred Plant Spirit traditionally known as "Food of the Gods" in Mayan culture for thousands of years has the possibility to powerfully and gently invite open our hearts, teach us, and support us on our paths.
Cacao is the fruit that chocolate, or cocoa, is made from. While cacao in its purest form is one of the most nutrient dense foods on the planet, once it becomes chocolate or cocoa, it has been largely stripped of its nutrients and its spirit. Chocolate and cocoa are highly processed, and often contain sugars, milk fat, hydrogenated oils and artificial flavors. The name 'cocoa' became mandated to differentiate itself from cacao because after so much processing, it contains too little of cacao to be referred to by the same name. Most chocolate is also produced unethically, from mass production to slave labor. Therefore, cacao has what most would know as a chocolate-y taste, but it is really a cacao taste that chocolate has.
Cacao is widely regarded as one of the most nutrient dense live foods on the planet. It also has one of the highest concentrations of magnesium in any natural food. It is the highest plant-based source of iron, contains more calcium than cow's milk, in addition to many other trace minerals (chromium, manganese, zinc, copper). Beyond just opening your heart, cacao also protects your heart as it has the highest concentration of antioxidants of any food in the world. For reference, blueberries are regarded as having a high amount of antioxidants, and cacao has 40 times the amount that blueberries do! It's also incredibly rich in serotonin, which helps to build our "stress-defense shield." Lastly, Cacao is a superfood that activates your BLISS molecule- anandamide- which is a naturally produced endorphin by the body after exercise. Cacao is the only plant anandamide has been found naturally occurring in, and it also contains enzyme inhibitors that decrease the body's ability to break down anandamide. So when you work with cacao, natural anandamide AND cacao anandamide will stick with you for longer!
Drinking this cacao invites you into presence, naturally energizing you and inviting you into being with yourself and all that's in front of you. At Bendichas Manos, we believe in tuning into the subtleties and wisdom of our bodies and our hearts, and each ingredient has been lovingly chosen to support you in doing so.
Each ingredient is chosen with ethics as our #1 priority. We believe you are working with more than just each ingredient in our blends; you are also working with the energy put into each ingredient in production. 

With cacao as our main ingredient, we source from a Mayan Women's collective, financially supporting and honoring the soil, the women, and the ancestors who have worked with the fruit for thousands of years. Their cacao is organic and of the highest quality, from a Criollo cacao family farm.

In addition to being organic, the adaptogens and herbs have all been independently tested for heavy metals, organic purity, and biological contamination. We source from places that run on fair trade models, that are focused on values like maintaining direct, long-term relationships based on solidarity, trust, and mutual respect, and offering opportunities to everyone connected with the supply chain- from engaging directly with farmers cooperatives and their partner manufacturers, to upholding safe, healthy and empowering working conditions free of forced labor, harassment, abuse, and discrimination.
The Mayan women who steward the artisanal cacao before it is in your cup respect the spirit of the plant and are guided throughout the entire process by Mama Cacao. Their ancestors have been working with cacao ceremoniously for thousands of years, and they carry forth their wisdom in the process.

The creator of Bendichas Manos, Jessie Duke, purchases the cacao from this collective. Additionally, she gives thanks to Cacao, her Ashkenazi and Sephardic ancestors, and the ancestral spirit of the land where her journey and this specific recipe has blossomed (Chumash & Tongva land). Her journey of connecting to cacao led her to exploring the gifts of her own lineages.
Please read about the ways we strive to be in right relationship on our home page. We also believe in paying it forward energetically to others with invitations for love and compassion. This is why when you buy a subscription bag, you will receive two free sample packs as a light challenge and encouragement to gift to those you feel called to share the gift of cacao with.
We do our absolute best to be in the most integral relationship with our environment. All of our bags and stickers are 100% compostable. Please lovingly offer them back to the earth. Shipping materials are compostable or are recycled and reusable. Please reuse what can be reused the next time you ship something, and offer what can be composted back to the earth.
More questions?
Contact us