This store requires javascript to be enabled for some features to work correctly.
"Bendichas manos"
or 'blessed hands' is a Ladino phrase native to my Sephardic Jewish ancestors. Even after my great grandfather left Tireh (an area of Izmir), Turkey, his family would continue to speak Ladino, a fusion of Hebrew and Spanish. This phrase was said to offer gratitude for a meal, or anything that was prepared with love and intention by one's hands.
Generations later
Using this beautiful phrase both gifts me an ever unfolding connection to my ancestors, as well as reminds me of the immense impact of our own hands. It highlights the profound individual and collective ability they possess to shape our lives. All of my ancestors are in this blend- from my Poppa Hy and his lineage who spoke Ladino, my grandma Rose and her lineage who were hand creators, my Grandma Esther who comes to me in my dreams, reminding me to take my cacao seriously and embody Queen Esther, and my Poppi Burt who reminds me how to be still, sturdy, and center-, I honor them and feel them with me as I infuse blessings and the deepest love and respect into Bendichas Manos Ceremonial Cacao.
I am grounded in Jewish lineage.
I am on a forever deepening journey of learning, exploring, and embodying topics within Judaism, relationships, plants, trauma and healing. I embrace life, health, business, relationships, and deassimilation as profoundly 'psychedelic' ceremonies. While Judaism is what roots me, the depth of my connection to my roots would not have been accessible without the heart opening made possible by my cacao practice. I have had the privilege to experience other traditions, cultures, and languages in ceremonies that have helped me remember the medicine of my own ancestors. I am grateful for every step on the path, and opportunity to engage myself as well as support others in the ongoing journey of experiencing, learning, growing, and rooting. I don't take the privilege of sharing cacao with others lightly, as I know there is so much within each of us that is waiting to be nurtured.
This practice of using my hands with intention
has shifted the way I co-create each and every moment of my life, and I am passionate about inviting others into creating their own opportunities to create rituals for returning to ourselves, tuning into our own inner wisdom, and anchoring into our connection with the holy of holies. I believe the more we are in connection with ourselves and what's around us, the more agency we have to create and play with our lives. It's an honor to share all that's been gifted to me with others who are open to exploring their power in using their own hands to co-create the life they feel moved to live. Bendichas Manos is here out of complete love and devotion to healing and weaving an empowered story for all of our ancestors, our families, and all beings.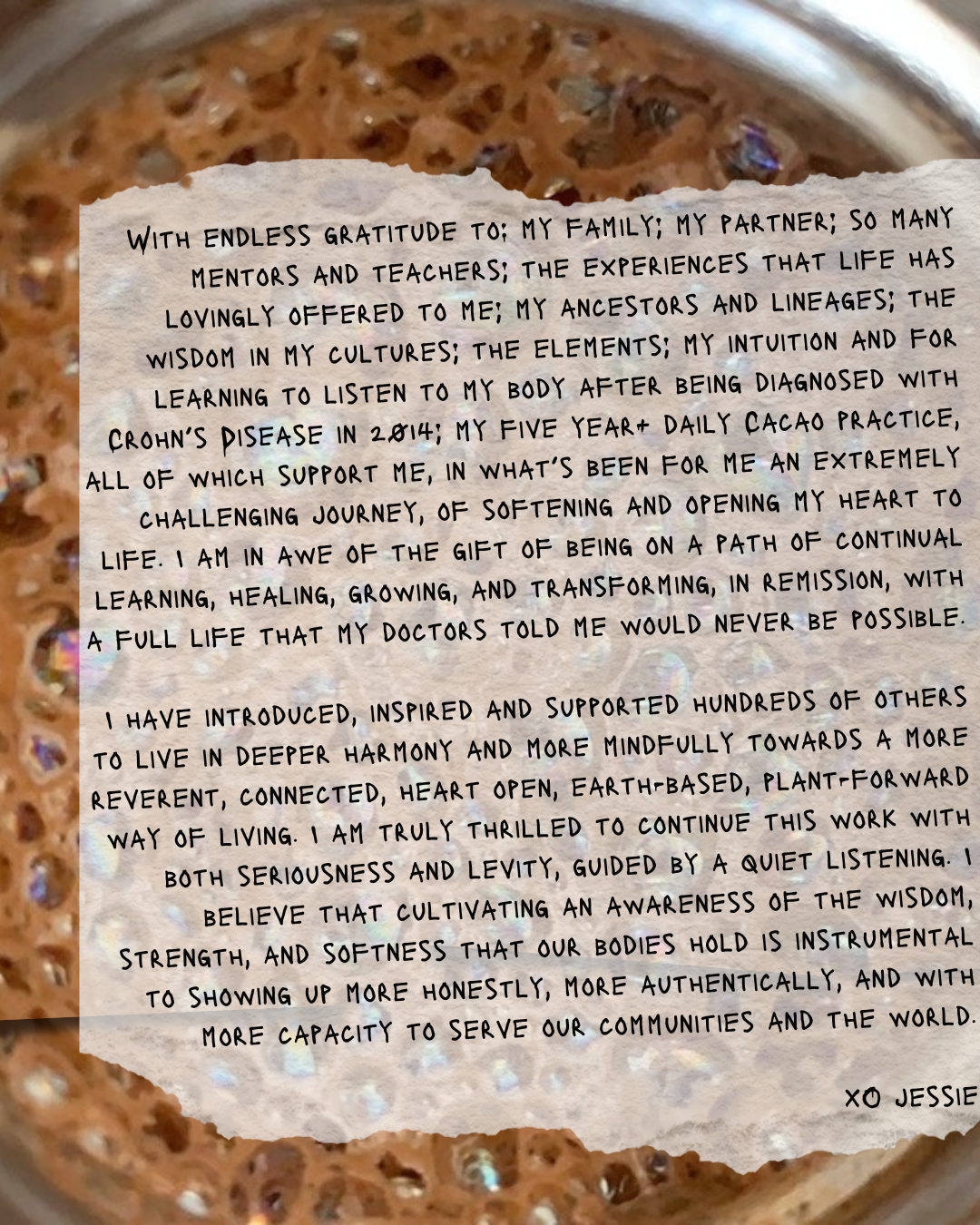 Jessie Duke, Founder
Jessie Duke (she/her) is a ceremonialist & entrepreneur dedicated to fostering connection & openness that enable people to uniquely contribute what is theirs to contribute to the world. Motivated by her own continual journey of sickness, healing, contraction, & expansion, she is at her best when serving a cup of cacao & creating space for others to slow down & drop in.
♡
As the founder of "Bendichas Manos" ('blessed hands' in Ladino), a ceremonial cacao company, Jessie partners with Mayan women's collective Ruk'u'x'Ulew, & encourages the recognition of the power of our hands as extensions of our hearts.
♡
Jessie advocates for incorporating personalized ritual with cacao to create even one small moment for embodied safety, intention, rooting & grounding in everyday life. She emphasizes the importance of centering, slowing down, & listening to enhance capacity for cultivating deeper relationships with oneself, loved ones, ancestors, communities, & the natural world.